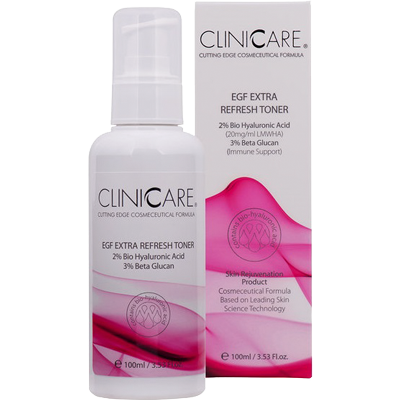 Clinic Care – EGF Extra REFRESH Toner – 100ml
Add an extra moisture boost to dehydrated skin
€25.00
Add an extra moisture boost to dehydrated skin with the Cliniccare X3M EGF Refresh Liquid Moisturiser.
Designed to revive tired skin, this lightweight moisturiser provides deep down hydration while supporting the skin's protective moisture barrier to reinvigorate lacklustre skin. Added antioxidants help to combat the effects of harmful free radicals and prevent environmental damage, to bring out the skin's natural radiance for a fresher, healthier looking complexion.
Suitable for most skin types, particularly dehydrated skins, apply to cleansed skin twice a day for best results.
Please Note: this product was previously known as the EGF Extra Refresh Toner.
Happy skin
Treat your face and body with luxurious body treatments.
EXPLORE Services