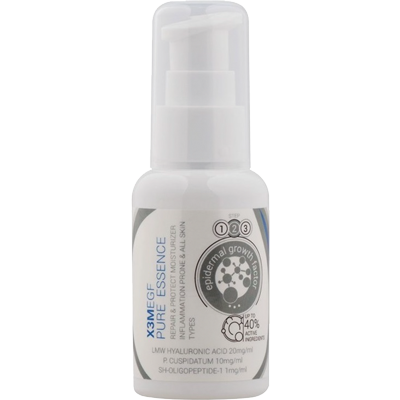 Clinic Care – X3M EGF Extra PURE Essence – 30ml
Lightweight but incredibly powerful
€45.00
Lightweight but incredibly powerful, the EGF Extra Pure Essence adds a much needed boost to a flagging skin care routine. Polygonum Cuspidatum Root antioxidants calm and protect skin and low molecular weight hyaluronic acid deeply hydrate the skin. EGF (sh-oligopeptide-1) activate the skin cells, making the skin energetic and gives an instant dewy glow. It removes acne-causing bacteria from the surface and minimises inflammation to create a calmer, more harmonious complexion. Suitable for oily, acne-prone and sensitive skin types.
Powerful facial essence.
Minimises inflammation.
Perfect for acne-prone skin.
SKIN THERAPIST TIP
Can be used over the entire face or locally on affected areas.
Happy skin
Treat your face and body with luxurious body treatments.
EXPLORE Services