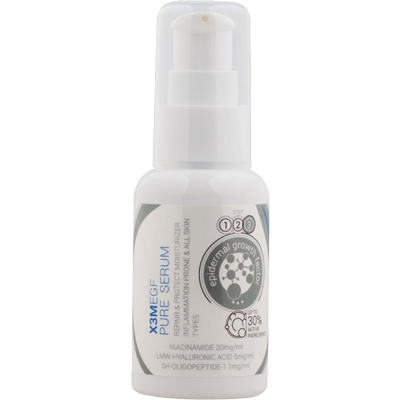 X3M EGF Extra PURE Serum
€45.00
This repairing and calming antioxidant moisturizer is especially good for irritated, inflammation prone, dry and sensitive skin. Niacinamide has strong anti-inflammatory properties and good effect on enlarged pores, fine lines and uneven skin tone. EGF (sholigopeptide-1) activate the skin cells, making the skin energetic and and gives instant dewy glow. Squalene and Pseudoalteromonas Ferment Extract gives hydration and moisture to the skin and repair damaged skin. Both ingredients help to repair skin's moisture barrier to keep moisture in and environmental irritants out.
24 hour for acne-prone skin.
Repairs and soothes irritation.
Minimizes enlarged pores.
SKIN THERAPIST TIP
Use after Cliniccare Pure Liquid and Essence for best results.
Happy skin
Treat your face and body with luxurious body treatments.
EXPLORE Services